With so much new music getting released weekly, it can be difficult to keep up and not miss anything important. We here at Tuned Up know the struggle and wanted to offer previews of a few new releases that piqued our interest this week. What sounds interesting to you? What did we miss? Drop your thoughts in the comment section.
Featured Albums/Singles
D.C. indie rock/punk band Flasher is back after 4 years with their newest effort Love Is Yours. The band experienced some significant changes during the pandemic, including going from a trio to a duo as well as one member moving across the country. But the time and pressure off from touring allowed them to more freely explore their space and sound in this new record, expanding further into the areas of post-punk, indie-rock, bedroom-pop goodness. Stream Love Is Yours HERE. Read our full review HERE.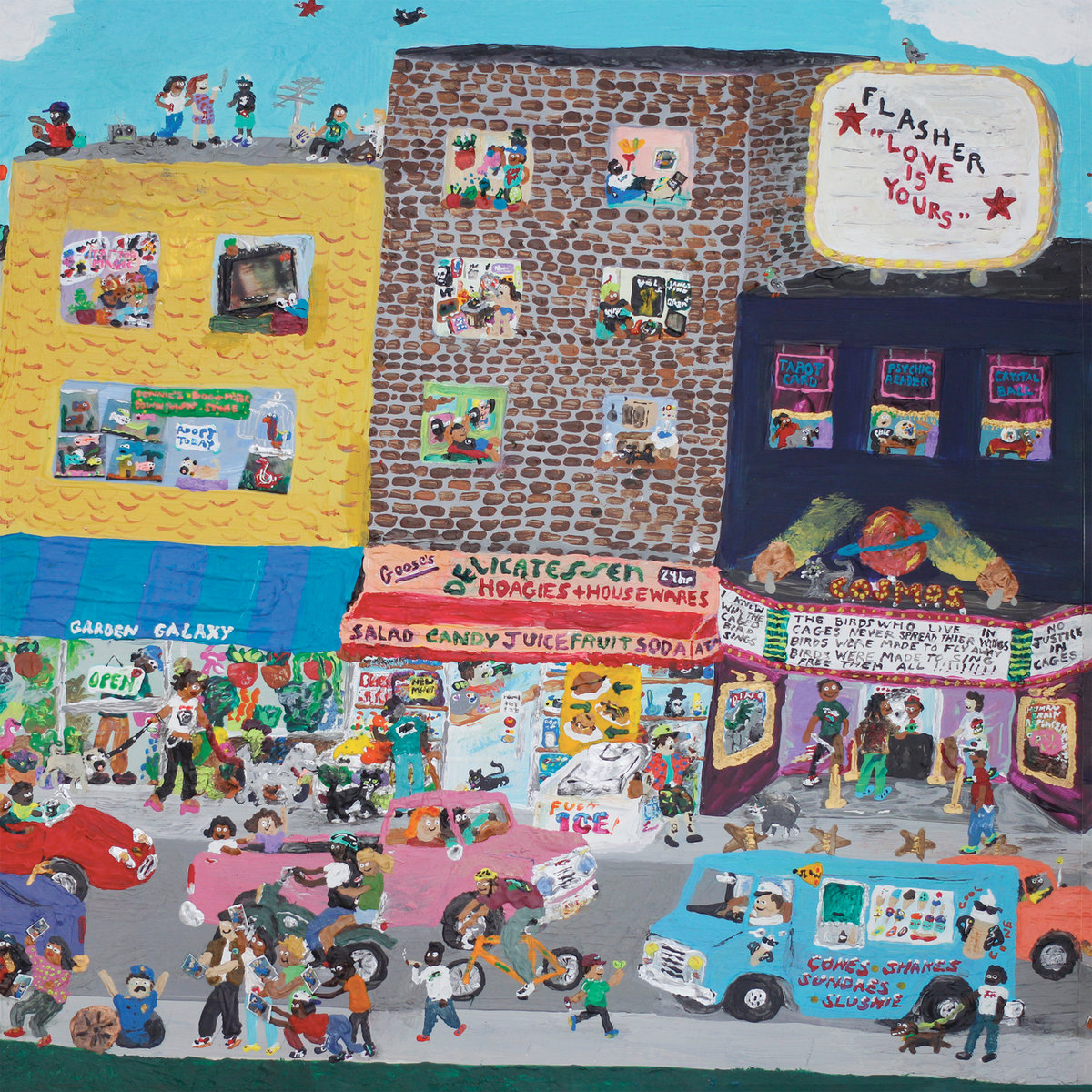 Confession time: power-metal is one of my guilty pleasures. I'm not a widespread connoisseur of the genre. But there are a few bands that I like to indulge in from time to time. There's just something so fun and whimsical about a bunch of adults playing dress-up and writing songs about Norse gods, epic battles, slaying dragons, pirates, and any other fantasy elements you might imagine. Several years ago, I stumbled across the Austrian group Wind Rose. They did an epic cover of "Diggy Diggy Hole," a dwarven tale of treasure seeking. The song was originally done by Yogscast as part of a Minecraft video. At the time I had no awareness of the original, so I couldn't believe I was hearing a metal band seriously singing "I am a dwarf and I'm digging a hole, diggy diggy hole, diggy diggy hole." But the thing is, the song is good! It's got epic battle drums, pipes, strings, shredding guitar, gang vocals, and an ear worm of a chorus.
"Diggy Diggy Hole" sent me down a dwarf-hole of sorts into the world of Wind Rose, an unabashedly power-metal band that specializes in songs set in the world of J.R.R. Tolkien's Middle Earth. Their latest album Warfront continues that theme with tracks such as "Gates of Ekrund," "The Battle of the Five Armies," and "I Am the Mountain." The lead single "Together We Rise" contains all of the epic elements that fans love about power-metal which makes bands like Wind Rose so dang endearing. This is definitely an album that will get your blood and fist pumping. (And is sure to have somebody ask: "What the heck are you listening to?") I Stream Warfront HERE.
"Salt" is the newest single from The Devil Wears Prada released in support of their upcoming album, Color Decay, dropping in September on Solid State Records. After 2021's ZII EP which was marked a return to their metalcore roots, "Salt" sets the boys back on the hard rock trajectory set forth on their last album The Act. For fans of that album, "Salt" strongly recollects tracks like "Chemical." It features nearly all clean vocals with some light screaming occasionally overlayed. There are some interesting tempo shifts throughout the track, with some head nodding tremolo picked guitar leads that make this an overall banger of a track. TDWP has tread in many different metal genres over the years. There are undoubtedly old school purists who long for the days of Death Throne and With Roots Above. To those people I say, check out ZII. For those willing to continue the experimental shifts the gang took on The Act, then make sure to keep Color Decay on your radar.
Husband and wife duo The Bell and the Hammer have released their latest single "When I Was a Sailor" from their forthcoming album, The Things We Get Wrong. The track starts with an ethereal organ drone. Lightly distorted guitar rolls in with drums and beautiful vocals from Serenity. Rather than the traditional verse/chorus/verse, the track is composed of various movements and time signature shifts. It was written by Serenity about Daniel's father and tells the story of his bi-polar disorder, with the central line lamenting the feeling of being unmoored from what anchors you. "I've forgotten how long for the sea." "When I Was A Sailor" is a hauntingly beautiful song that lives into its epic nature at over 6 and half minutes. It features guest spots from Nat Fitzgerald of SPACESHIPS and Andrew Dost formerly of Anathallo (!!!). The Things We Get Wrong will come out on August 5th on Friend Club Records. If you want to help bring the project to life on vinyl and get some other sweet swag, be sure to back The Bell and the Hammer on Kickstarter.
Other Notable Releases
LPs:
Joyce Manor–40 Oz. To Fresno ()
Judah and the Lion–Revival ()
Carrie Underwood–Denim and Rhinestones (Country)
Golomb–Golomb (Columbus Lo-Fi, Punk, Indie)
For Your Health–Hymns for the Scorned EP (Screamo)
Ryan Shelkett–Someone Becomes No One (vocalist for The Liars Club and Cross My Heart)
Alfred Banks–The Range 2 (Hip Hop)
Truslow-Natural Killer (Pop/Rock)
Tor Miller–Generation of Me (Singer/Songwriter)
Singles:
Pianos Become the Teeth-"Genevieve"
Jimmy Eat World-"Something Loud"
Ritual Eulogy-"Nautilus"
Pale Waves-"Reasons to Live"
Public Disco Porch-"Wisehaven"
Wallabe the Reallest-"RESPECT THE SHOOTER"